I've been promising myself I'd get back to this blog in December (even though it doesn't seem to draw many comments), and as I ate one of the last of our batch of Thanksgiving sugar cookies this morning, I remembered my good intentions and started thinking about how I'd never shared the story of "Smiley Pig" here.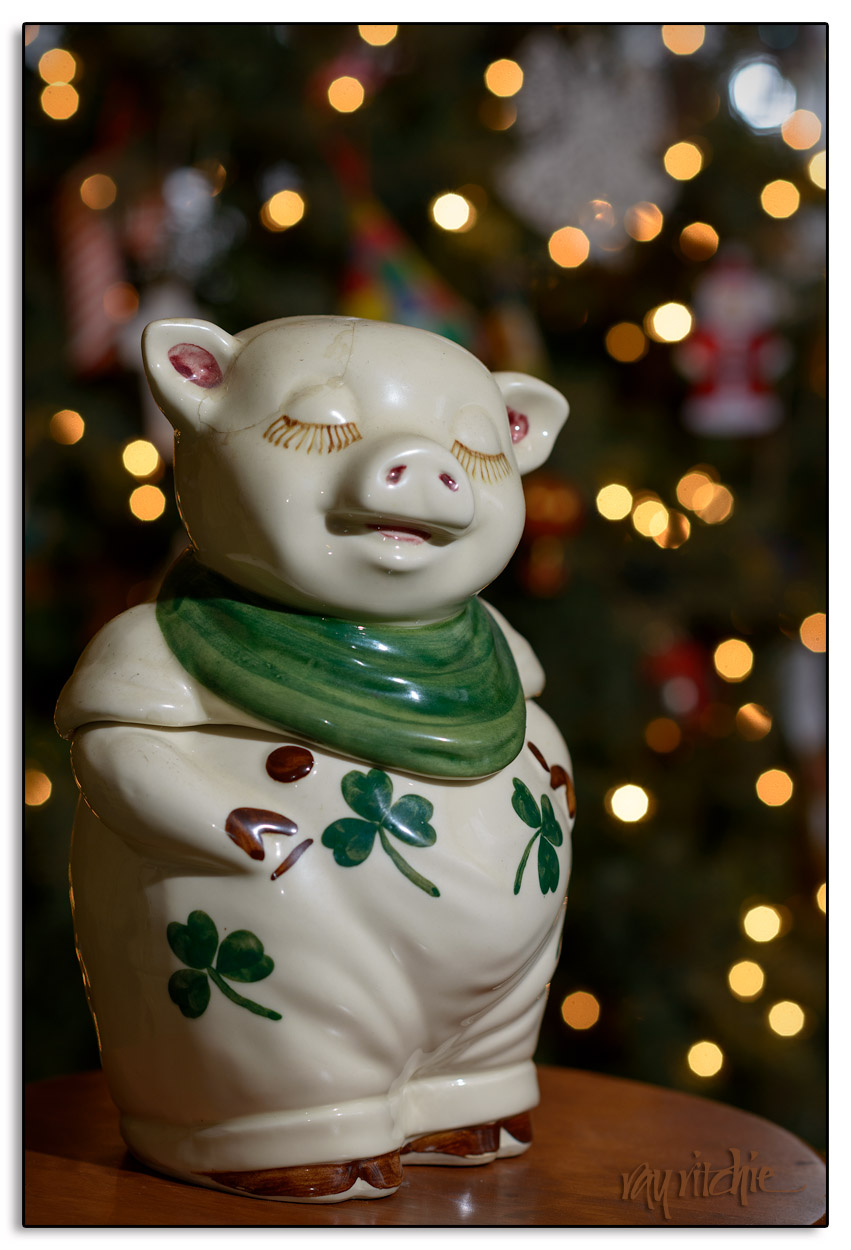 Smiley is the cookie jar who sat in Grandma Bourne's kitchen from my earliest memories until my grandparents had passed away and the house was closed and sold. He then moved to my mother's home, and when she died, he came to our house. Whenever we would visit Grandma, the first thing we kids did after hugging our grandparents was to run to the kitchen and look in the cookie jar, and Smiley was always full of cookies. Until Grandma got to be too old and sick to cook any longer, the cookies were almost always her homemade sugar cookies.
Somehow in his later years, the old pig had his head dropped and broken. I know it must have been after he arrived at Mom's house, because although she always had infinite patience for tasks like gluing broken pottery back together, I can see that in this case she left a lot of glue on his forehead – so  it must have been in the days after her skills were starting to suffer.
According to the newspaper clipping Mom left us in the jar, Smiley was made by Shawnee Pottery of Zanesville, Ohio, sometime after 1937. We don't use him for cookies anymore, because of his delicate condition, but he's been replaced by another pottery pig jar whose belly always seem to welcome homemade cookies of any description. In the past couple of years, we've been trying to establish a tradition of baking cookies with our granddaughter Anna whenever she comes to visit, and as we put the cookies into the pig, I always point out Smiley, who sits on a high position above the kitchen cabinets,and tell her how he was always full of cookies whenever I visited my Grandma. Hopefully, some day that story will be passed on, and the cookie pig will continue to be filled, particularly in these special holiday seasons. Happy December!
============= Technical Notes =====================================
Photo taken with Nikon D800 and 85mm f/1.4G lens, at ISO 200, f/3.5 and 1/60 sec., with off-camera flash. Image was shot as raw, and developed in Lightroom 4.4. Minor post-processing in Photoshop to add a vignette effect to corners in order to tone down some of the brighter lights in the background.