We were very lucky, or I might even say "blessed," by wonderful weather during the trip. In 10 days in the rainiest part of the country, we only really got rain one morning. But as we set off from Seattle for Mt. Rainier, we didn't know that would be the case, and we were a little worried, as Seattle was foggy and overcast, and that continued to be the case throughout the morning. But as we neared the mountain around noon, suddenly the clouds lifted, and we had a gorgeous view; the rest of the day was crystal clear.
We stopped in Ashford to book a room, and the clerk there recommended we have lunch at Copper Creek Inn, where we found another semi-calligraphic expression: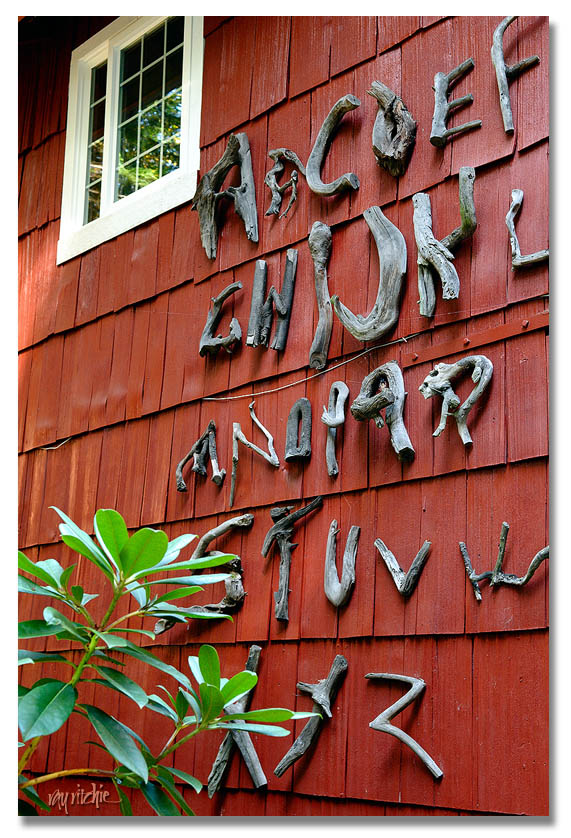 Shortly after entering Mt. Rainier National Park, we pulled over at a viewpoint and took a trail down onto the riverbed of the Nisqually River. Here's one of the views from there (as with most of the images on this blog, you can click the image for a larger view):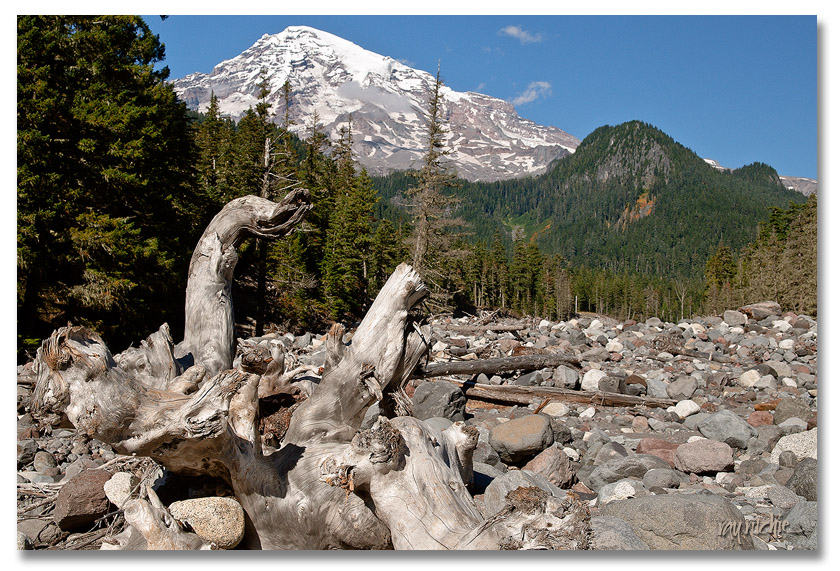 Over and over during the trip, we were awed by the forces of nature -it's almost incomprehensible to think of all the glacial action and flooding which has taken place over the millenia to leave a debris field like that.
With stops for views and photography, it took us two or three hours to make it up to Paradise, which is the site of the main visitor center for the park, and the highest point you can reach by vehicle in this part of the park (Before entering the park, we passed Faith Baptist Church, whose motto was "If you want to make it to Paradise, you have to go by Faith"). Among the sites on the way were : Waterfalls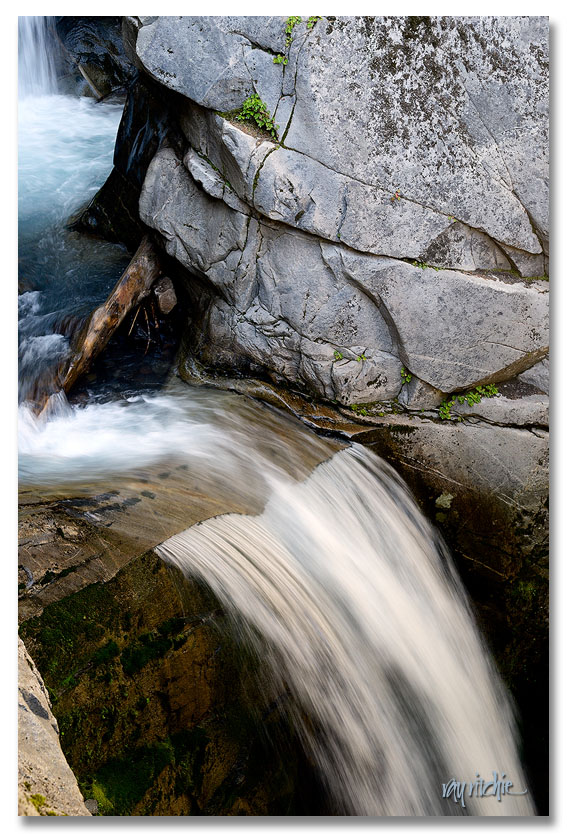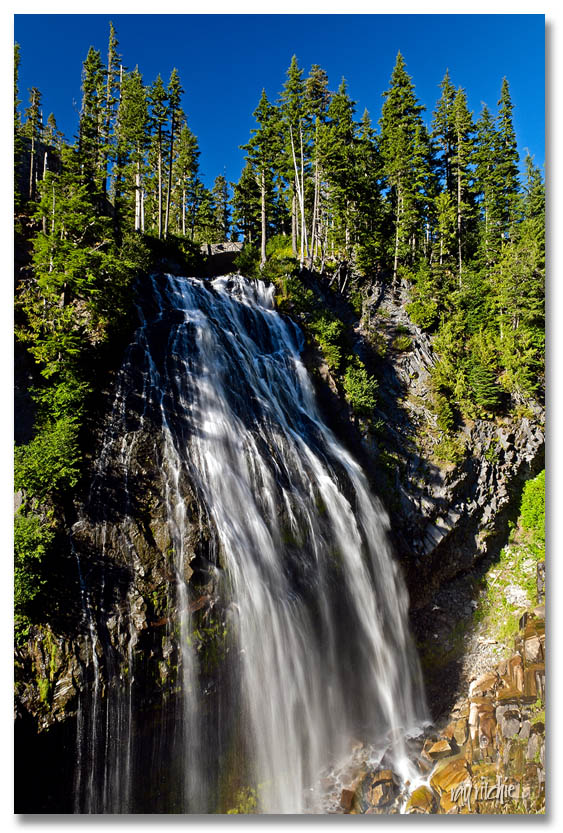 and one spectacular view after another of Mt. Rainier itself,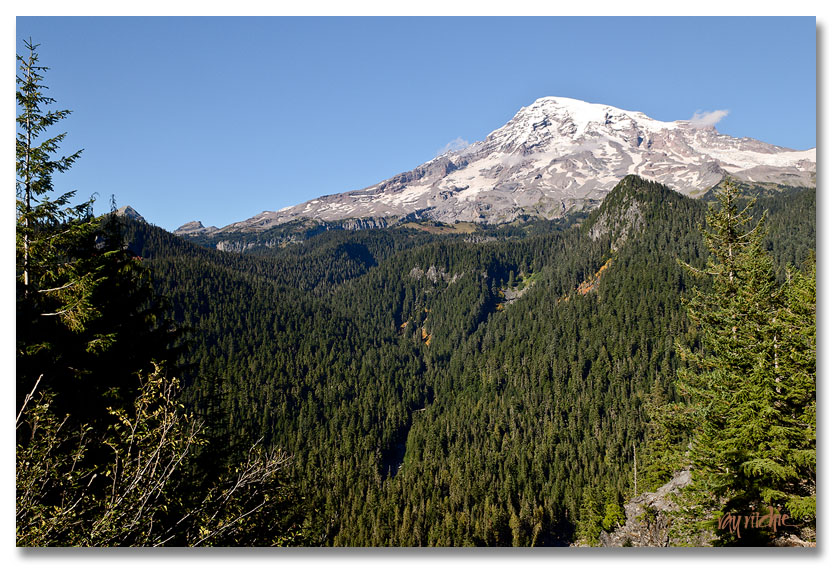 which was finally culminated by this view as we arrived in Paradise around 4:30: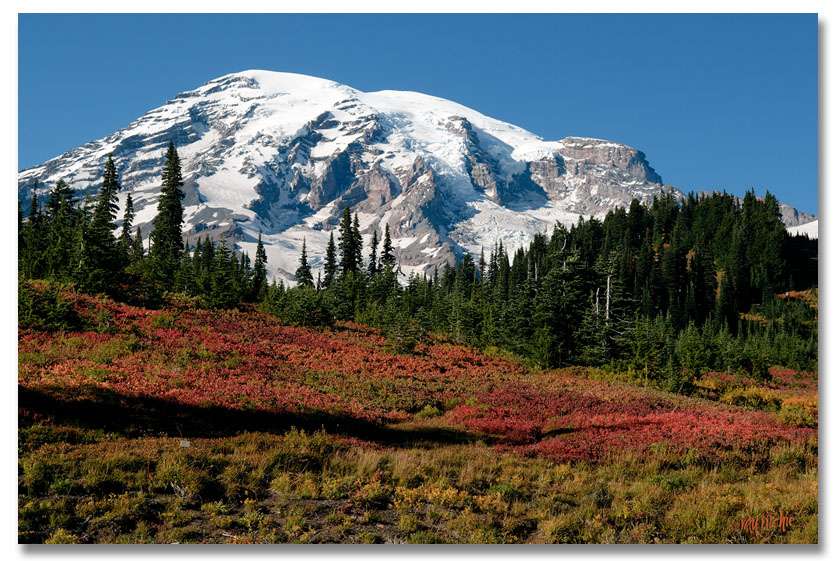 In the light of the evening sun, the hillsides looked literally ablaze with reds and oranges. It would have been great to stay in one of the park inns and take time to hike some of the trails, but the park lodging was all booked up (which was why we had stopped in Ashford), and so we returned to Copper Creek for dinner, and then went to bed (no cell phone service, no landlines, no TV) so we could get an early start on towards Mt. St. Helens the next day. We were worn out, but overjoyed that the trip had gotten off to such a good start.