The news of the moment in New Jersey, and much of the Northeastern U. S., for that matter, is Hurricane Sandy. We got hit three days ago, and this is definitely the worst storm experience of my lifetime, at least since Hurricane Hazel hit Raleigh, N. C., just after I entered the first grade in 1954 (I think that date is right).
Sandy arrived Monday evening, and, we lost power around 5PM. By 7:30 it was so dark in the house that we decided we might as well go to bed. About an hour later, we were awakened by the sound of crashing glass, and after running around to several rooms, we found that a tree had come crashing through the bay window in our guest bedroom. We spent an hour or so doing some quick picking up of the biggest pieces of glass and rigging an interim replacement for the window pane using plastic sheeting, masking tape, an old bulletin board, and some scrap plywood, and then went to bed again and lay awake several hours as we listened to the roar of the storm and wondered what would be next.
When we woke the next morning, we found no additional damage to the house itself, but discovered we now had no less than five trees across the driveway blocking our exit, and at the foot of the drive an additional tree was blocking the road, even if we could get the car out. And there were at least a dozen additional trees down across our wooded hillside, though fortunately none of them seemed to be causing big immediate problems for us. We went out for a walk on the morning following the storm, and met a neighbor down the road who is a contractor, and was willing to come remove the tree against the house and the ones blocking our drive, so our most pressing needs were met pretty quickly.
These past three days have been an experience in adapting to changing circumstances and learning to be grateful that we got off relatively easily, in spite of the inconvenience of no power, no water, no heat, and of course, no Internet access. We have been blessed by the generosity of our friends Anne, Dan and Laura, who have been hosting us as several-hours-a-day refugees, as they have a whole-house natural gas-powered generator, and still have most of the amenities our house has lost. We'll lose most of our refrigerated and frozen food, but we can still cook on the gas stovetop, and our gym is now open, with shower facilities and plenty of heat. Compared to so many families in the shore region around us, our losses and troubles are embarrassingly small.
We're able to get water from our friends and the local fire department, and some of the grocery stores are now open to sell their non-perishable items. When we're home in the evening, this is our light source: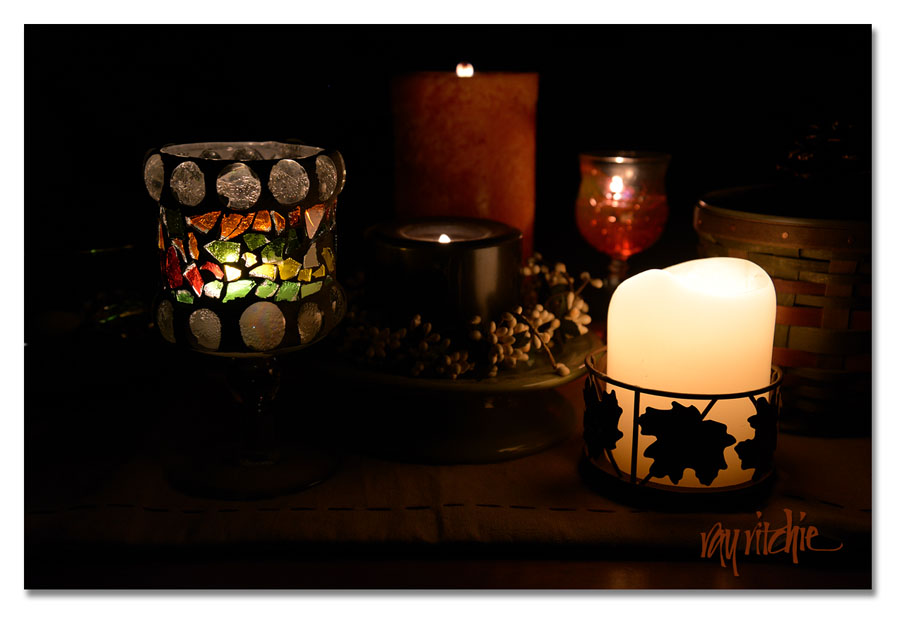 It gives a romantic atmosphere, but I'm ready to get power back – are you listening, JCP&L? They say we may have as much as a week to go, but I'm hopeful it will be sooner than that.
This morning Anita received an e-mail from our bishop, which started off quoting the words of the hymn "When the Storms of Life are Raging, Stand by Me." We do feel supported, and we are grateful for the help of our friends and the prayers of so many around the country. I hope we'll find a way to help someone else as much as we ourselves have been helped.