Our visit to Crater Lake was a reminder to me of how our memories can be altered by subsequent events. I had visited Crater Lake before, when I was around 12 years old, and in my memory I saw dense evergreen forests surrounding a deep blue lake. The deep blue part was right, but the surrounding evergreens were a bit of an exaggeration, probably colored by many photos and postcard views I've seen since I was actually there with my parents and family so many years ago. As we learned by driving in the north entrance (closed in winter, again – we're slow learners), the overall Crater Lake landscape is fairly barren. In fact, before you reach the lake from the north, you have to pass through an area known as the Pumice Desert, which looks like this: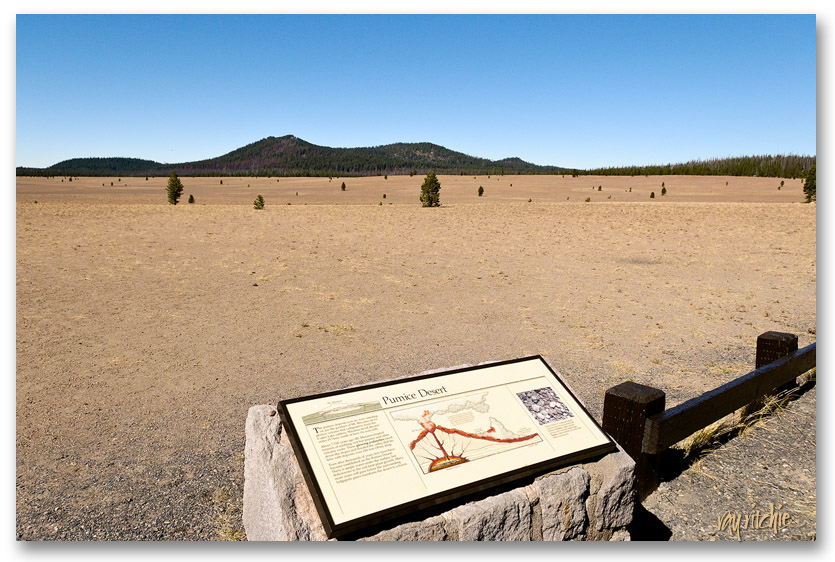 The volcano from which  Crater Lake was formed, Mount Mazama, erupted 7700 years ago, and the pumice deposits in this area are still 100 feet deep. There are so few trees, not because there is no water (there's actually plenty below the pumice), but because the soil has almost no nutrients, even today. After a few miles on another climbing and winding mountain road, we arrived at our first view of the lake itself: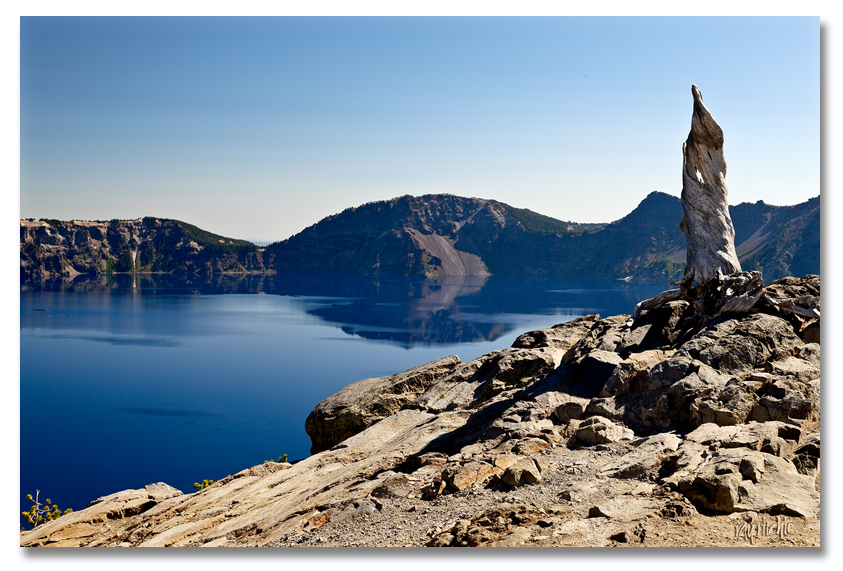 Driving counterclockwise around the lake (the wrong direction unless you enjoy driving with dramatic dropoffs to your right side), we went through several views of Wizard Island, the only significant body of land in the 5-mile diameter lake, gradually changing from completely barren to somewhat forested: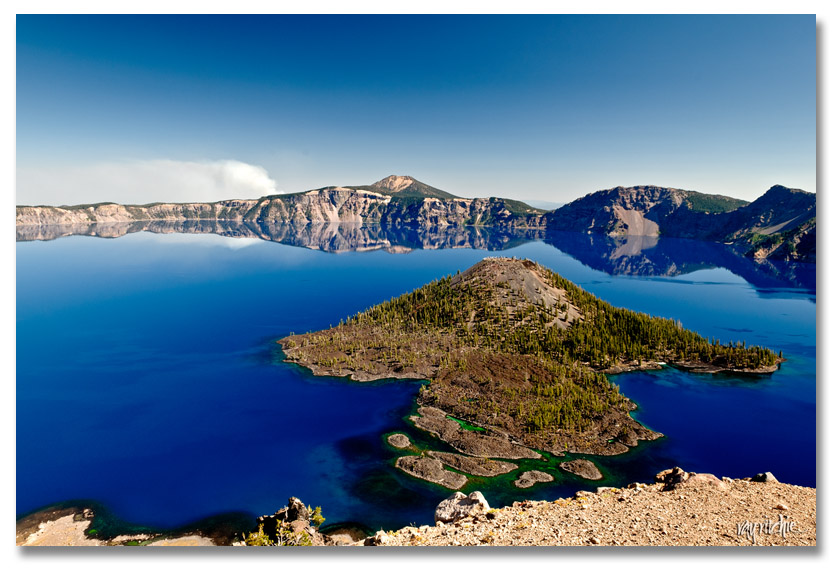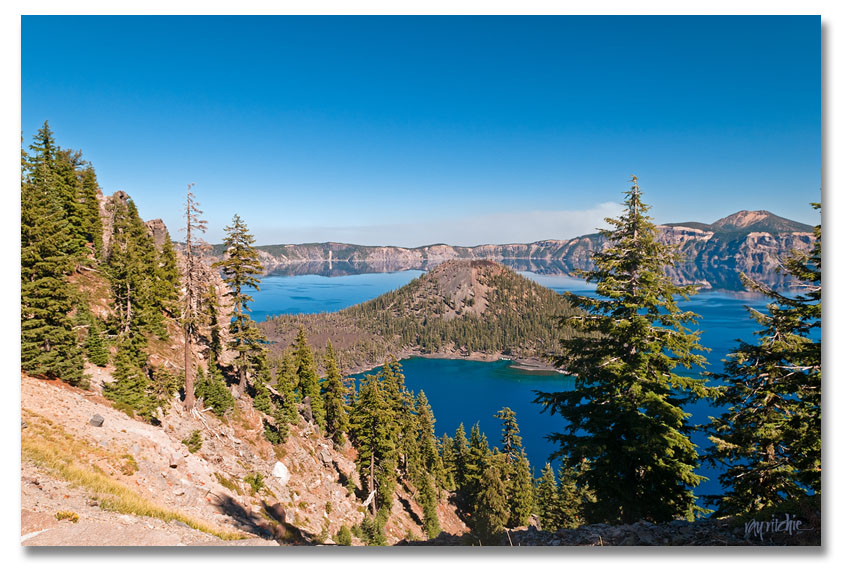 In the first photo above, you can see a plume of smoke on the horizon. We were puzzled about this, and I checked various websites afterwards to see whether it might have been steam from one of the other volcanoes in the Cascade range, but there was no mention of any recent volcanic activity in the area. From reading various National Forest Service bulletins later, I finally concluded that there may have been a controlled burn of forest undergrowth going on. We stopped at the Village for a short break, and then decided to continue around the lake until Anita's nerves gave out. Somewhere around the last overview of the Phantom Ship (a small island of spiky lava spines), we were met by a huge RV hugging the center line, and decided that we'd had enough tension for the day. This was the last viewpoint we visited: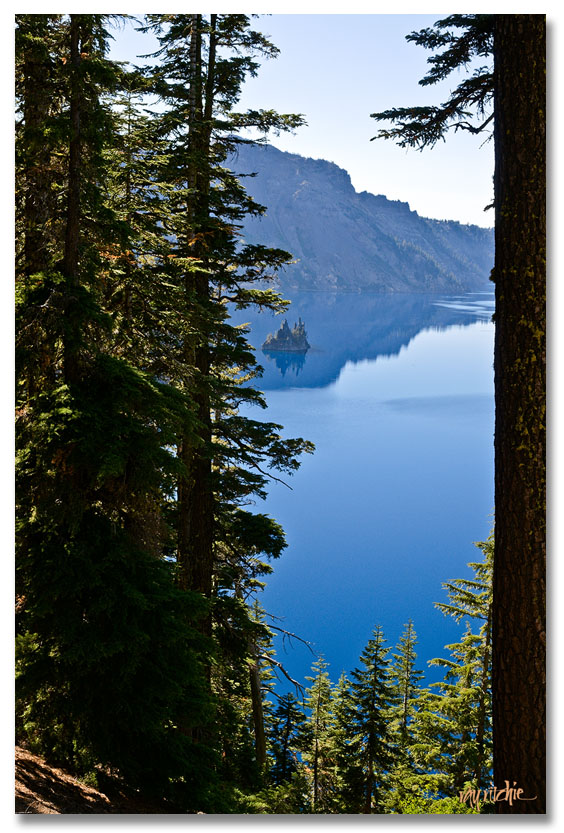 Finally, at this point on the eastern side of the mountain, we were looking at the lake through dense forest, echoing my dim childhood memories. But I don't think my family ever got to this overlook on that trip, so I'm not sure my memories are real. I found Crater Lake to be breathtaking, but almost sad at the same time. Like Mt. Rainier, this was another place where we'd have enjoyed staying in the park, to get a fuller experience with sunrise and sunset views and some hiking around, but I had been checking the park website for months, and all the lodging was showing full – which was still the case when we got there. We followed the Rogue River back to the Interstate, and found a room for the night in Grants Pass, where at least we'd have a head start on the next day's journey to the Oregon coast.