I've been writing mostly on calligraphic topics for awhile now, but yesterday we returned from a 10-day trip to the Pacific Northwest (Washington and Oregon, that is), and I have tons of photos I'm dying to share with someone, so the next few posts will be a mini-travelogue. A larger collection of photos will be available for viewing on my Flickr page. As usual, if you see something you'd like to own, just drop me a line using the email link on my contacts page.
Since we're shifting gears from lettering and calligraphy, here's a transitional photo. This pile of seaweed with the seagull feather looked very calligraphic to me when I found it on Harris beach in southwestern Oregon: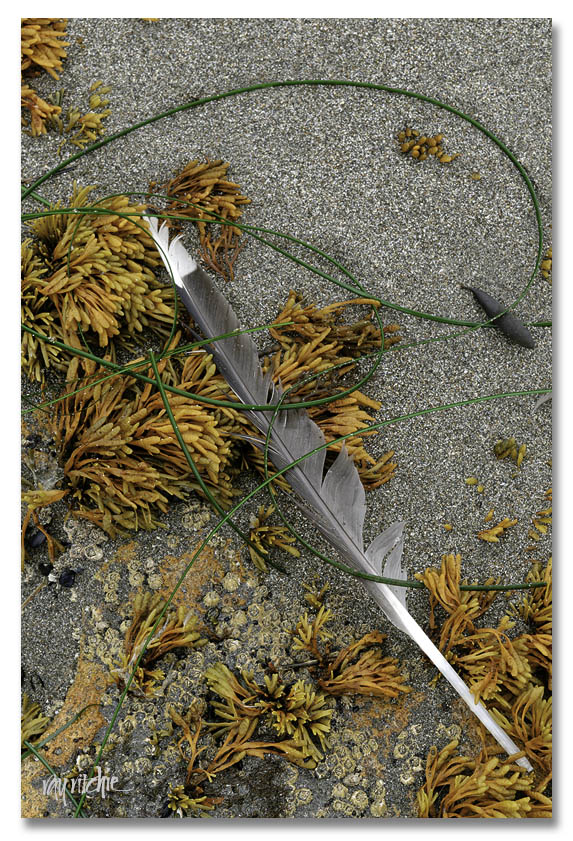 I was amazed by the Oregon beaches – very different from anything I've experienced on the east coast of the US, and especially different from the Outer Banks of North Carolina, which is where 90% of my beach-going experience has taken place. Oregon is somewhat like the area around Bar Harbor, Maine and Arcadia National Park – lots of rocky beach, tidal pools, and mountains that drop right into the ocean. We were on a madcap tour, trying to cover too much ground in 10 days, but I could easily have picked one beach in Oregon and spent most of our time there. My favorites were Harris, Bandon, and Ecola/ Cannon, and even though I was doing a lot of "run and gun" photography, I came home with at least a few images from each spot that pleased me enough to share. Over the next week or two, I'll highlight a few of my favorites.