We usually go to the local fireworks display over the 4th of July weekend, but this year it was on July 3rd, and we were having local thunderstorms until very close to the time for the show, so we decided to skip it. But it seems they went ahead anyway, despite our absence, if I can believe the barrage of explosions I heard around 9:00 that night. Today I regretted not having gone, and decided to set myself a task of creating an Independence Day piece as a substitute for the first-hand celebration.
Having gone, camera in hand, to the fireworks display so many times in the past meant that I had lots of fireworks pictures on hand, so I composited several of them together in Photoshop to make up my background. I then dug into my quotes files and searched the Internet for quotes on independence, freedom, and liberty, and created a page of quotes, along with some headlines. I colored my quotes with colors sampled from the fireworks display, and then faded it into the background, before adding some headline title text to the foreground.
Here's the finished product: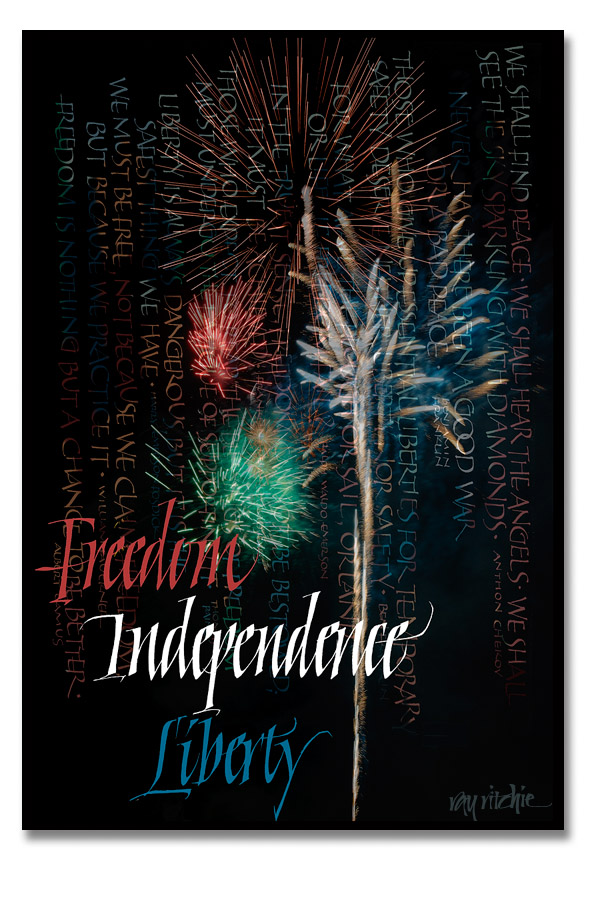 For those who'd like to be able to read the quotes a little easier, here's the original quotes page: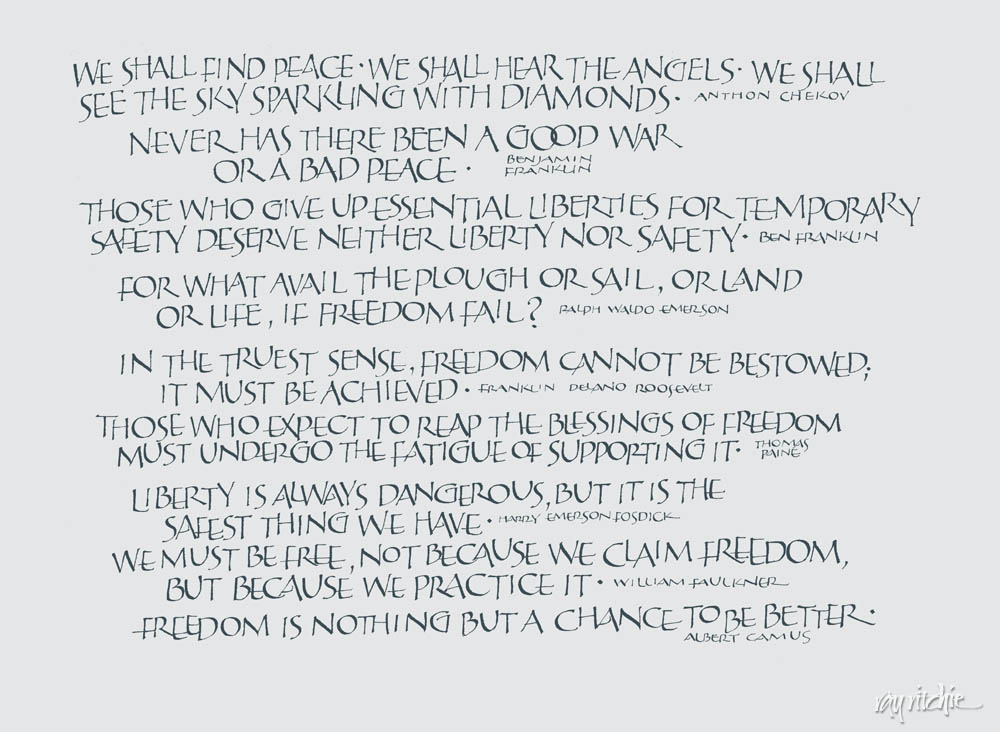 I can see a lot of little imperfections to criticize, and will probably make some improvements to the piece if I decide to actually use it for anything other than this blog, but it was a fun project for the day. Hope you all had a great 4th.
ADDENDUM: We decided to run out for a celebratory hot dog in the evening, and discovered that we were wrong – they cancelled the fireworks on the 3rd and postponed them until the 4th. So we found ourselves stuck in the middle of a huge traffic jam, both on the local streets, and in the parking lot of the Jerzee Freeze. We could have stayed and watched the fireworks then, I guess, but there were no parking spots left, so we just came home. We were rewarded, though, by a spectacular crimson sunset just as we turned onto our road. Nice end to the holiday.