A lot of us do a bit of looking back in January of each year, and as I was doing my own reflections this year, it occurred to me that it had now been more than 10 years since I started moving from film photography to digital. I received my first digital camera, a Canon G1, as a gift in June of 2001. This was, I think, one of the first digital compact cameras aimed at the "enthusiast" market – that is, the target market was "serious" amateur photographers, rather than family point-and-click shooters. In any case, I quickly grew to love it, and especially the digital shooting experience of being able to shoot as much as I liked with essentially zero added cost, and being able to instantly review my result and shoot again if I wasn't happy. Even though the G1 was only a 3 megapixel camera (absolutely puny by today's standards), it made great-looking 4×6 prints, pretty good 5×7′s, and I found that with careful attention to technique, I was occasionally able to print as large as 8×10. The whole experience of being able to shoot, instantly review, re-shoot if necessary, and then print "large" on my own printer had me hooked on digital for good.
In fall of that year, Anita and I made a trip to Zion, Bryce and Grand Canyon National Parks, and the G1 got a good workout, as we found photo ops at every turn. It seemed to me at the time that I was shooting constantly, but when I recently went back and reviewed my photo files, I found that I probably shot less than a tenth of the number of shots I would shoot on a similar trip today. I guess I may have still been shooting with a film mentality, subconsciously imagining how many "rolls" I had shot and calculating the cost of development. Many of the shots that I was impressed with then no longer thrill me, but there are still some that I really like. Here's one of my favorites, a shot of Thor's Hammer at Bryce Canyon (click on the image for a larger view):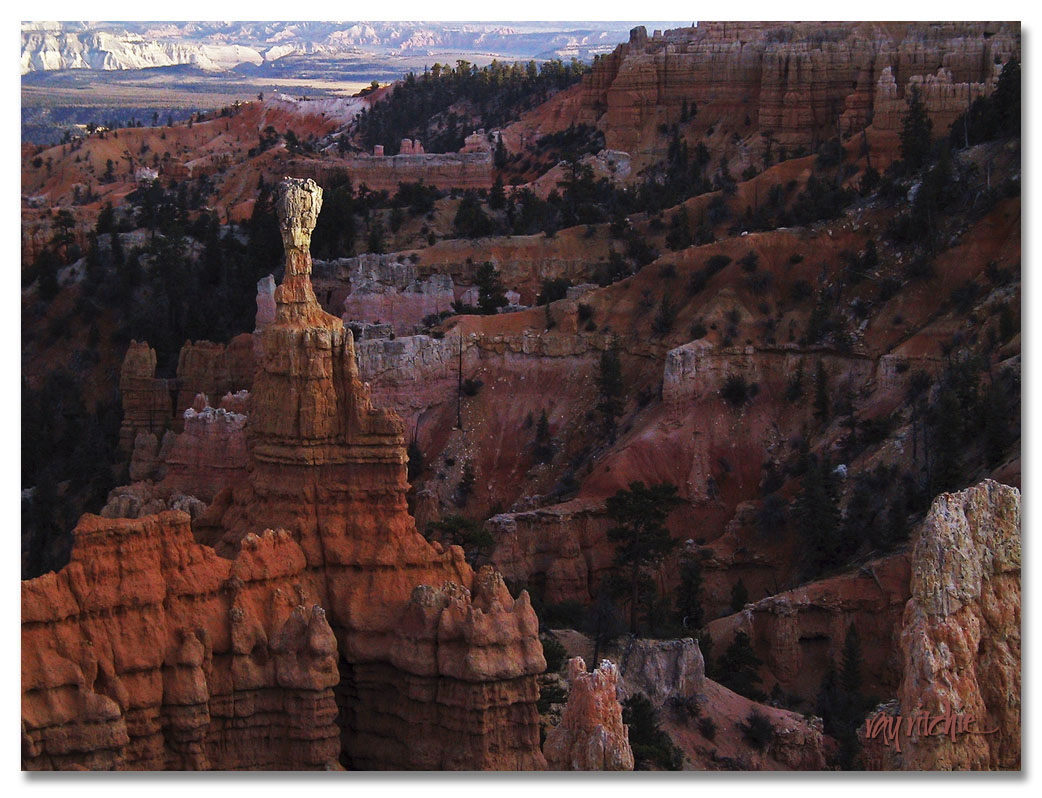 I love the way that Thor's hammer just catches the light of the setting sun in this shot.
Here's a second example, which was my first-ever digital panorama, stitched together in Photoshop from multiple shots:

Looking at the photo, I can't help thinking of the words supposedly uttered by the white settler who "discovered" Bryce: "That's a helluva place to lose a cow." As usual, clicking on the image above will take you to a larger version, which I highly recommend in this case (the best way to do this would be to right-click and choose "Open Image in New Window," and then expand the image to full size by clicking with the "+" sign).
Our trip to Bryce is one of my all-time favorite travel memories. We arrived late-afternoon, in early November, and found we had the park almost to ourselves. There were only a few other tourists at the visitor center, and as we began driving around the perimeter of the canyon, we found that at many of the overlooks, there were no other cars in the parking lot. As we went down into the canyon for a hike on the Queen's Garden trail the next day, I think we met only one other party. We were actually very lucky with the weather, too – as we left Bryce on the morning of our third day there, we had snow flurries, and a gathering storm chased us all the way down the mountain and through the Grand Staircase National Monument on our way to the Grand Canyon. I remember, too, that our route through Grand Staircase had been picked for us on a TripTick from the AAA. It turned out to be a gravel road something like 26 miles long, and included such thrills as a fording of a stream in our rental car, and maneuvering around fallen bolders which were partially blocking the road. In the entire 26 miles, I think we saw only one or two trucks of hunters, and with the storm clouds behind us, we were very nervous about whether we'd make it back to the paved highway before we got stranded by a flash flood or a flat tire. I regret now that we didn't allow ourselves any photo stops during that segment, but it's hard to describe how threatened we felt on that road in our rental Ford Taurus, not knowing what lay ahead or how long it would be before we could get help if something happened.